Automotive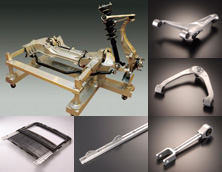 The NLM Group supports the automotive industry by providing solutions for diversified and sophisticated challenges, such as improvements in driving performance, driving comfort and safety, reduction of environmental impact, etc. The lightweight structure of the automobile is an essential requirement in reducing CO2 emissions; improving fuel economy, driving performance, quietness, and safety; and reducing costs, as well as for compact design. The NLM Group responds to customer needs by offering materials and parts combining our sophisticated expertise in the development of alloys, design (experiments, analyses, and evaluation), and fabrication.
NLM Group by Product Category
Aluminum gravity casting, die casting, and casting parts,
Nikkei Matsuo Co., Ltd
Aluminum wire

Aluminium Wire Rod Company Ltd.
Rapidly solidified powder aluminum alloy extrusions

Nikkeikin Aluminium Core Technology Company Ltd.
High functional development alloy
High strength high formability aluminum sheet
Car suspension parts

Nikkeikin Aluminium Core Technology Company Ltd.
Flame retardant for automotive plastic parts
Heat exchangers for automotive use

Nikkei Heat Exchanger Company, Ltd.
Catalyst carrier and alumina honeycomb
Alumina used in spark plugs
Lead-free free-cutting aluminum alloy

Nikkeikin Aluminium Core Technology Company Ltd.
Powder and paste
Fluxes and ceramics