Message from the CEO
Message from the CEO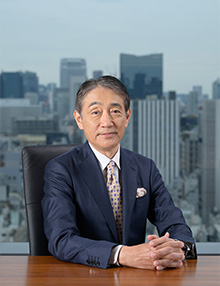 Since its establishment, the NLM Group has been a comprehensive manufacturer of aluminum products with diverse offerings ranging from aluminum raw materials to fabricated products.
Aluminum is lightweight, strong and possesses many other superb properties such as workability, corrosion resistance, thermal conductivity, electrical conductivity, and recyclability. These characteristics have made it the metal of choice for many applications that greatly benefit society.
The NLM Group develops aluminum and aluminum-related materials to supply highly diversified products for a wide range of industries. Our products all leverage the NLM Group's core strengths: highly original technologies for making the most of aluminum's properties, and a wealth of knowledge and expertise amassed over the years.
Team NLM—Groundbreaking Innovator of Aluminum and Beyond
Everyone at the NLM Group is working together as a single, united team to ensure that customers can rely on us and will continue to choose the NLM Group as a partner. We are deploying the Group's comprehensive capacities to completely satisfy the heartfelt aspirations of every customer and create value that our customers appreciate. We are leveraging the Group's wealth of knowledge and technology to go beyond being a mere materials manufacturer and take our business as a group  to an entirely new level.
We always deeply ponder the question, "What will bring joy to our customers?" In that spirit, we are pursuing sustainable growth by vigorously pursuing the limitless and new possibilities arising with the changing times.
As we strive to improve the Group's overall corporate value by doing business in this manner, we remain committed to supporting customers in a wide variety of industries, thereby contributing to the improvement of people's quality of life and environmental protection.
Ichiro Okamoto
President and Chief Executive Officer

Corporate Overview