Material Issues of the NLM Group

Material Issues
of the NLM Group
The NLM Group will contribute to the realization of the sustainable society envisaged by the SDGs through the comprehensive and wide-ranging fields of business related to aluminum. As part of this process, in order to recognize the issues the NLM Group should address in particular and raise them as important management issues for the Group's sustainable growth and the creation of corporate value, we identified the material issues of the NLM Group through the following steps.
Steps to Identifying Material Issues
Identifying a Group of Candidate Material Issues
Ahead of identifying the material issues, we ascertained the extent of impact of the Group's activities, which cover a wide range of business fields. To ensure there were no omissions in our recognition of related social issues, we first determined the Group's value chain and its scope as a means of verification. Next, based on the requirements of international guidelines such as SASB, GRI, the SDGs and ISO 26000, we produced a list of around 400 wide-ranging social issues related to ESG. We assessed the importance of each issue based on an analysis of the impact on each stakeholder and the NLM Group, and finally narrowed the issues down to a shortlist of 31.
Assessing Importance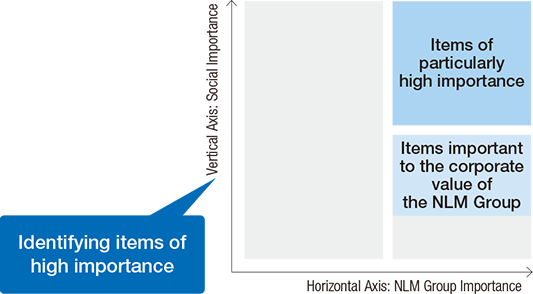 Working with the consolidated shortlist, we conducted another assessment of importance based on two aspects, the degree of importance to society, and the degree of importance in mid-to-long-term corporate value creation for the NLM Group, and finally identified the material issues.
Confirming Validity and Comprehensiveness
When assessing the importance of the items on the shortlist, we also had them evaluated by outside experts active in a variety of fields. We reconsidered and reviewed the items while referencing their opinions to confirm the validity and comprehensiveness of the choices.
Identifying the Material Issues
We reclassified the identified material issues into five material issue themes. After undergoing review by the CSR Committee and Group Executive Committee, the issues were approved by the Board of Directors.
The Five Material Issue Themes of the NLM Group
Protecting the global environment

Providing sustainable value

Happiness of employees

Responsible procurement,
production and supply

Corporate ethics and governance
The Identified Material Issues
The material issues of the NLM Group were identified as follows.
In the near future, we will set KPIs and target values for each of the issues and work towards achieving them based on concrete plans of action.
The Five Material Issue Themes
Material Issues
SDGs-related Items
Protecting the global environment
Reducing greenhouse gas emissions from company activities(scope 1, 2)
Reducing greenhouse gas emissions in the supply chain(scope 3)
Action on climate change (TCFD)
Responding to water stress
Preventing environmental pollution
Providing sustainable value
Efforts to expand the use of renewable energy
Developing and providing low-carbon products and services
Promoting a recycling-oriented economy and society
Developing and providing robust infrastructure
Contributing to the stable supply of food
Shaping the future through innovation
Happiness of employees
Occupational health and safety
Developing a fulfilling workplace
Diversity & inclusion
Securing and cultivating human resources
Responsible procurement,
production and supply
Providing safe and secure products and services
Protecting and respecting human rights
Developing a stable supply chain
A resilient value chain that is flexible to changes
Corporate ethics and governance
Strengthening governance
Reinforcing the compliance framework