Message from the top management

Message from the top management
As Team NLM, we will strive
to be a groundbreaking innovator of aluminum and beyond.
Introduction
At the NLM Group, we have decided to publish the 2022 edition of Integrated Report as was done in the previous fiscal year.
In this report, we hope to speak in detail about the external environment that surrounds the NLM Group and the Group's internal management resources, sharing our vision in terms of how we perceive these aspects, how we will provide value as a member of society and how we wish to take part in the creation of a better future with a focus on the so-called "value creation process," as in the previous year's report.
Current status of the quality problem and future initiatives
Regarding the revocation of JIS certification and request that we cease the use of the JIS mark (quality problem), which has caused you inconvenience and concern, the Special Investigation Committee established in June last year is currently investigating the situation. At the NLM Group, we will cooperate fully with the investigation activities of the committee. In addition, when we have received the committee's final report, which will contain a comprehensive picture of the problem, an analysis of its cause, and recommendations regarding measures to prevent recurrence, we will immediately disclose the report and implement other initiatives that will be necessary to restore trust.
Meanwhile, we have already initiated voluntary improvement activities prior to receiving the final report. I am also visiting plants and telling employees that I am determined to ensure the Group as a whole works as one to solve the quality problem, and making these improvements together with them.
As Team NLM, we will work to be a groundbreaking innovator of aluminum and beyond.
Current situation of the Group
First, I would like to review the Group's recent business results and describe our future direction.
As Figure 1 shows, the Group has maintained relatively strong performance in the last several years. In FY2018, we posted a record-high ordinary profit exceeding 30.0 billion yen. I believe this resulted from our strong efforts to push forward with our growth strategies, such as the acceleration of overseas expansion and the increase of efforts to create new businesses and products, in addition to the implementation of structural reforms including the review of businesses with issues and the introduction of a pure holding company system.
This year, the external environment surrounding our businesses has grown more difficult. Despite this environment, we would like to continue the above initiatives and ensure that they take root. Under the Mid-term Management Plan (Fiscal 2022-2024) that we announced in May, we aim to build a structure that enables us to consistently generate a profit. We also aim to achieve sustainable growth by both creating the value demanded by customers and addressing social issues including carbon neutrality.

Figure 1. Consolidated Financial Results
Pursuing value instead of volume
Next, I would like to explain my own basic understanding and ideas about which way the Group will go and which direction it should take to continue its development.
Figure 2 shows changes in the demand for aluminum globally from 1960 to 2020. It appears that demand has remained on a growth path. However, we should note here that the demand for aluminum has remained virtually unchanged since 2000 except in China. Above all, annual demand in Japan has been around 4.0 million tons. From a global perspective, the Japanese aluminum market is only a minor, low-growth market accounting for only around 5% of the global market.
The materials business also has aspects of a process industry, so it is definitely not viable without a certain volume because fixed costs need to be absorbed. This is why some people think that we should proactively enter fast-growing markets and start by increasing the volume of production and sales by making capital investments.
However, I don't want the Group to compete on volume in a so-called battle of attrition through repeated large-scale capital investments and the emphasis of only size or volume in low-cost, high-volume production. Instead, I would like the Group to engage in businesses which are viable even at low volume. In other worlds, I want the Group to compete on the value it creates for the customers who demand it.
Since I became the president, our slogan has been "becoming a groundbreaking innovator of aluminum and beyond as Team NLM." The phrase groundbreaking innovator used in the slogan essentially indicates this stance we have taken, the pursuit of value rather than of volume. At the NLM Group, we would like to follow this path as we move toward the future.

Figure 2. Changes in Demand for Aluminum in the World
Demonstrating the Group's comprehensive capability as Team NLM
At the NLM Group, we operate an array of aluminum-related businesses. We used to describe ourselves as "a department store of aluminum." Upstream segments that are close to raw materials and materials and downstream segments that include processing, products, and related services co-exist in a single corporate group. We understand that this business structure has made us a corporate group that is unusual from a global perspective as well.
Because our businesses are diverse, the Group has within itself diverse knowledge and points of contact with customers. This comprehensive capability is a feature of the Group. It is also one of the strengths that we should leverage.
At the NLM Group, individual business segments, including the chemicals segment and the sheet and extrusion products segment, compete with other companies in their respective industries while internally they are managed on a stand-alone basis under the divisional system or as spin-offs. This is how we have been increasing the competitiveness and autonomous orientation of each business. On the other side of the coin is the fact that our way of thinking tends to be oriented toward partial optimization, which made it difficult to make a Group-wide or bold leap forward.
Therefore, we have been pushing forward with an initiative considering and implementing businesses not just in a siloed approach based on the business or function, but as a team beyond boundaries between divisions or companies, with our standard targets being customers from the automotive, electrical and electronics, and other industries -- organization-spanning cross-functional collaboration. We have been strongly committed to promoting this, especially in the last 20 years.
Team NLM is an approach with which we go a step beyond the above initiative. I believe that if people and organizations work together organically within the Group, making it possible to demonstrate the Group's comprehensive capability leveraging the combined wisdom of individuals, we will be able to create and provide greater, more useful value.
One example is the heat dissipation plate for eco-friendly vehicles.* We leveraged all of the Group's capabilities, such as alloys and other materials, methods including die-casting and forging, and processing such as bonding and press fitting, which led directly to value for customers. We can say that, at this point, the heat dissipation plate is exactly the type of achievement that is made by Team NLM.
To accelerate moves like this, we consolidated Group company sites, which had been geographically dispersed, bringing as many of them as possible to Shimbashi when we moved our head office functions to the district at the end of 2019. In addition, we abolished the traditional assigned seating system almost entirely and introduced a complete hot desking system. We built an environment (place) that facilitates collaborations within the Group beyond the boundaries between companies, divisions, positions, and other boundaries, or facilitates spontaneous collaboration.
* xEVs as a whole, including BEVs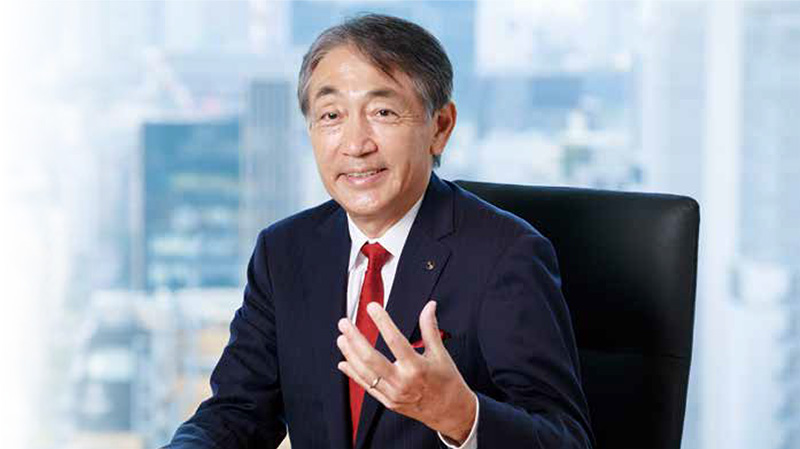 Constant awareness of strengths
As I mentioned above, at the NLM Group we peruse value, not volume. Our customers are the people who recognize this value, not us. What value is currently demanded by customers, and what value will they demand in the future? It is important to identify this value and think through it exhaustively.
I always say that we should be alert to external information and that information comes only from outside. At the NLM Group, we have established the Tansaku Joho (search information) database, on which crude information, such as the problems faced by customers and other external people and their tweets, is posted and shared within the Group. Information like this is exactly the clue to the value demanded by customers, so I check this information daily.
While the NLM Group is a manufacturer, I think that we deliver Shohin (commercial goods) to customers and not Seihin (finished goods) which may be mere objects. Of course, I do not mean shohin as an accounting term (merchandise, or goods purchased from external sources). By shohin, I mean what we deliver to customers in packages as comprehensive value including the processes of the sales activities, design, manufacturing, transportation, and after-sales services. I think that because the achievements we have made as Team NLM are condensed into these products they are shohin.
First, we need to share an understanding of what our strengths are as a prior condition before every business activity. To realize the value demanded by customers, we should take advantage of our strengths and continue to hone them, which is also one of our missions.
Toward the implementation of sustainable management
Corporate Philosophy that reflects a shift of our vision to business
We revised the NLM Group Management Policy in May this year (Figure 3). The major point of the revision is that we have greatly changed the Corporate Philosophy as the Group's raison d'etre.
Previously, it said "Be forever committed to the development of new applications for aluminum and aluminum-related materials." The revised philosophy now says "continuing to create business, focused on aluminum." We shifted from the previous thinking around of how we could expand the area of the use of aluminum as a specific material (development of new applications) to an approachfocused on value for customers (business). We can say that this precisely reflects our image of what we should be, a groundbreaking innovator of aluminum and beyond.
In addition, the expression "business, focused on aluminum" is also used in the new Corporate Philosophy. This implies that we will not necessarily focus solely on aluminum in the operation of our businesses. It also means that we are determined to think more flexibly to realize the value demanded by customers.
In this revision of the Management Policy, we took time to consider the measures for informing employees of this idea and ensuring that it will take root and be followed as a guideline in the operation of businesses and the making of decisions by involving management team members of the Group companies. We would like to deepen employees' understanding of the Code of Conduct which embodies the Corporate Philosophy and ensure that it becomes deeply entrenched by, for example, considering it as company-wide activities.
Corporate Philosophy

Contribute to improving people's quality of life and environmental protection by continuing to create business, focused on aluminum.
Basic Policies

The Group will create healthy, safe workplaces, and achieve zero-accident operations.
The Group will continuously provide diverse value to customers by deepening the level of collaboration and coordination within and outside the Group.
The Group will work actively to achieve carbon neutrality, to help create a sustainable society.
The Group will engage in fair and honest business operations, with respect for human rights and an emphasis on ethics.
The Group will respect diverse values, and develop human resources from a long-term global perspective.
Figure 3. NLM Group Management Policy (Revised on May 16, 2022)
Priority management issues (material issues)
In last year's integrated report (2021 edition), we set the following five themes as the priority management issues to be addressed by the Group (material issues):
Protecting the global environment
Providing sustainable value
Happiness of employees
Responsible procurement, production and supply
Corporate ethics and governance
From the current fiscal year onward, we will set specific KPIs (targets) for each issue together with a process chart showing a schedule and work aggressively to achieve the KPIs.
Happiness of employees and turning a light on inside
While we have not specifically prioritized the issues, I personally believe that we should first achieve the happiness of employees or get as close as possible to the ideal because that will lead to the improvement of the Group's value, such as the provision of the value demanded by customers and it contribution to solving social issues.
Just improving work conditions, such as salaries and benefit programs, is not all that we mean by the happiness of employees. I think that being a corporate group where all of its employees share its raison d'etre and business purposes and intend to work proactively to achieve them is also an important element of employee happiness.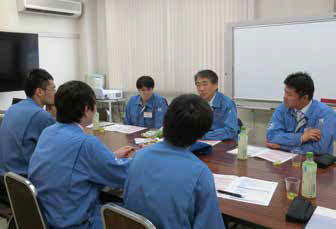 Employees work every day, spending a significant part of their lifetime working for the company. Without exception, all employees will eventually retire. I believe that making the NLM Group a corporate group where all of the employees feel really happy that they worked for the company on their last day of work is the greatest responsibility I have as a manager. This is the happiness of employees that we should achieve.
Generally, employees are described as 人材 (lit. human materials). At the NLM Group, however, we use the term 人財 (lit. human resources) to describe our employees. In corporate activities, people are not inorganic materials that constitute a substance. They are the greatest assets that create new value that is multiplied by their creativity -- They are our resources. When you get to the core of it, human resources themselves also constitute the strength of the Group.
This is why I think that my most important duty is to motivate each individual employee to work in a positive frame of mind -- to turn a light on inside.
I value opportunities to engage in direct dialogue with employees, such as the initiative commonly known as Za-FIVE (photo), in which I invite about five young employees from each company or plant and sit in a circle with them to talk about the present and the future, although this has been interrupted by the COVID-19 pandemic.
Conclusion
The business environment surrounding the NLM Group continues to change drastically. Further, these changes are not necessarily a tailwind for the Group.
Naturally, both people and companies change. For that reason alone, it is natural that we should work to change ourselves or make change happen. I even think that resisting change from the start or making it an excuse to do nothing is neglectful.
Value for customers also changes with the trends of society. This is why we, in the pursuit of value, have to continue flexibly taking on challenges.
"As Team NLM, we will work to be a groundbreaking innovator of aluminum and beyond." We will continue our efforts to be a corporate group that can fulfill your expectations.