Nippon Light Metal Holdings Co., Ltd.,
has participated in WIPO Green as a partner.
「WIPO Green was established by the World Intellectual Property Organization (WIPO) in 2013 with the aim of giving a boost to the development and spread of environmental technologies.
WIPO Green is a platform that matches the providers of environmental technologies to those who need the technologies. Therefore, by registering and disclosing an environmental technology with WIPO Green, it is possible to match individuals or organizations that require that technology.
Currently, the WIPO Green's database of more than 120,000 technologies, needs, and experts is used by users all over the world.
WIPO Green Registered Products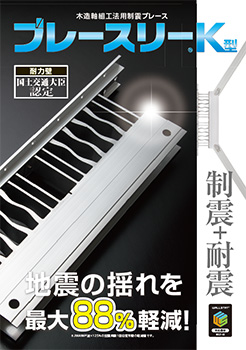 Reducing the shaking due to an earthquake of wooden houses
BRACEREE™
BRACEREE™ is a seismic brace (seismic device) for the timber framework method, which has a built-in aluminum extruded profile called a hysteretic damper in an aluminum brace. The energy absorption function generated by the plastic deformation of this aluminum damper exerts a stable damping performance and reduces the shaking of an earthquake by 30% to 50%. (The effect depends on the building and the seismic wave.)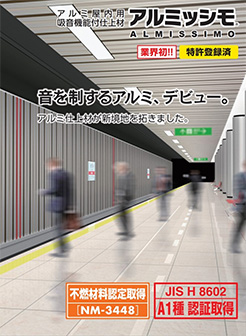 Finishing material with sound absorbing function
ALMISSIMO™
The aluminum indoor finishing material with sound absorption function ALMISSIMO™ is a finishing material that utilizes the structure of a Helmholtz resonator with proven sound absorption performance. The use of this finishing material for the inner walls and ceiling will prevent unnecessary reflection of sound and realize a comfortable sound environment.